Data management, design and engineering
GRICAD supports projects in their needs around management, design and data engineering:
Data Management Plan, legal issues questions legal, General Data Protection Regulation.
Data collection, extraction and curation.
Databases, modeling, architecture, workflow.
Data mining, visualization, cross-referencing.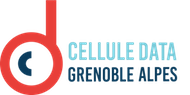 GRICAD coordinates the Cellule Data Grenoble Alpes in charge of supporting scientists in the management of their research data.
It is composed of members of the UAR GRICAD, university libraries, laboratories and the DIST CNRS.
Work on research data

The technologies implemented are available on GRICAD's cloud platform (NOVA). A team is at the disposal of project leaders to help them in their implementation, from the assessment of needs to the provision of tools.

GRICAD can help you to start your massive and/or complex data processing projects by:
providing you with one or more virtual machines on the Openstack infrastructure,
installing the software stacks he masters on these machines (Elasticseach, Logstash, Kibana, ArangoDB,...),
supporting you on the configuration and use of these softwares.
One of the objectives of GRICAD engineers in charge of these issues is to create synergies around the sharing of data produced/used by/in different disciplines and research laboratories around different work axes:
Confidentiality, legal innovation, security, GDRP (data acquisition, access security, anonymization, open data,...).
Quality, traceability, life cycle (data cleaning, traceability for different purposes - including reproducibility and justification for publication -, link to data management plans).
Experimental platforms, test environment, DB and GIS technologies, statistical tools, survey specificities, massive web data processing. Query, selective presentation, data enhancement.
Evolution of infrastructures according to needs.